Ms. Linda Skiles joined Petty, Michel and Associates in August 2001.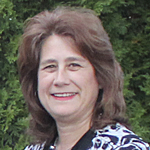 Linda is a lifelong resident of Lyons, WI, an author, mother of three boys and grandmother of three beautiful grandchildren.
As a lifelong patient of chiropractic, her career began in the Fall of 1985 as a Chiropractic Assistant, bringing with her various skills and expertise in the clerical area.  Under the guidance of the doctor she proceeded to  learn all support areas of the office and was quickly promoted to Office Manager.   She continued as office manager working for three different clinics of various size organizing them with policies and procedures, managing and motivating  staff and sharing her passion for chiropractic with patients,  family and friends.
She left the office setting in 2001 at which time she joined with Petty, Michel and Associates as the Client Services Coordinator.    Working from her home, Linda spends much of her day helping offices with their marketing efforts,  such as e-newsletters, web design, event fliers, etc.  She is the librarian for the PMA Members Site and  can answer any question you may have or will find the answer if she can't.
Linda  is responsible for the administrative functions for our consultants, compiling client office statistics, assisting with HR issues, and  other duties as requested.  She is the administrative assistant for the business itself, coordinating the webinars/teleclasses, scheduling, accounting, marketing, and web design.
Linda was awarded the WCA Chiropractic Assistant of the year award in 1990.
With 30 plus years of chiropractic and business experience, Linda is a great asset to Petty, Michel and Associates and their clients.  We encourage you to contact her with any questions or concerns you may have.
Email Linda:  linda@pmaworks.com
Call Linda:    (262) 749-0221 (mobile)
Click here to follow Linda on Facebook